I'd imagine that the venerable Dynaco ST-70 is the most well recognized tube amp in the world. It was introduced in 1959 and was sold until mid-1990. Over 300,000 of the ST-70s were produced, and more continue to be built as kits from companies like
Tubes4HiFi
and
Triode Electronics
. The Tubes4Hifi recreates the chassis exactly as it was (aside from heavier gauge stainless steel) with holes for screw-in posts, pre-amp power draw tube sockets up front, the stereo/mono switch, and other nostalgic things that aren't used today but will make your build look authentic. The Triode Electronics kit eliminates the superfluous holes in the chassis and makes use of a cap board inside rather than the tall quad cap, along with a different driver board.
Also popular are rebuild kits with newly engineered driver boards that one can use to improve an existing ST-70. There are new boards from Tubes4HiFi,
Mapletree
,
DIYTube
,
WelborneLabs
,
Classic Valve Design
(the high tech DynaMutt) and likely a dozen others out there, all with their own flavor and philosophy. After reading so much about the amp on various forums, I had the burning desire to put one together ;)
I personally chose the kit available from Bob Latino from Tubes4Hifi as the cornerstone of my build. The kit is well documented and it seems that there has been a lot of thought in the parts selection. The kit includes the VTA70 driver PCB which was introduced in 1987, appeared in Glass Audio magazine in 1989 and continues to be offered today. Of course, building a kit stock is not my style, so the chassis and transformer bells were sanded and powder coated. I snuck in a few little upgrades too, including:
Teflon Tube Sockets and PCBs
Kimber TCSS wiring
Cardas RCAs / Binding Posts / Input wire
Kiwame / Takman Resistors
Mundorf Coupling Caps
Nichicon 100uF Electrolytics
Pilot light
Teflon solder strip for pentode / triode switch wiring
Heavy Duty On/Off Switch
Custom brass input and name labels
IEC Plug
Holes had to be drilled/cut for the new RCAs, larger switch, pilot light, solder strip and IEC. Since the chassis is 16 gauge stainless, it takes a bit of effort. The binding posts required a little bit of modification but fit in the existing slots. I used black lacquer coated phenolic boards and drilled them out to hold the posts in place. The tube compliment is Sylvania JAN input tubes, Winged C output tubes and Sovtek rectifier.
Here's a few pics to enjoy: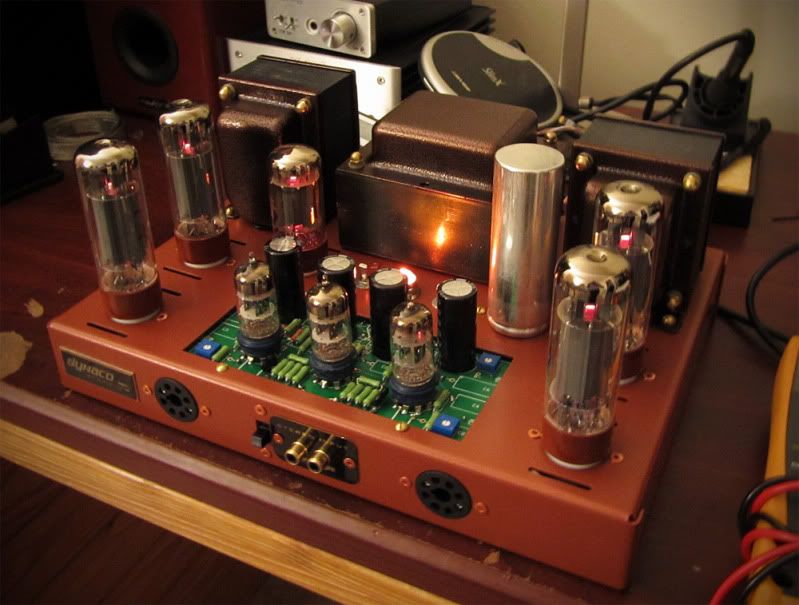 ST-70 Running - Click to Enlarge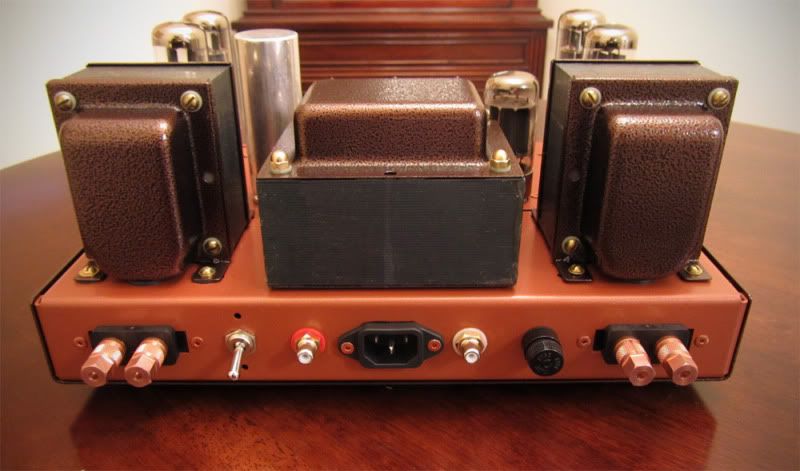 ST-70 Back - Click to Enlarge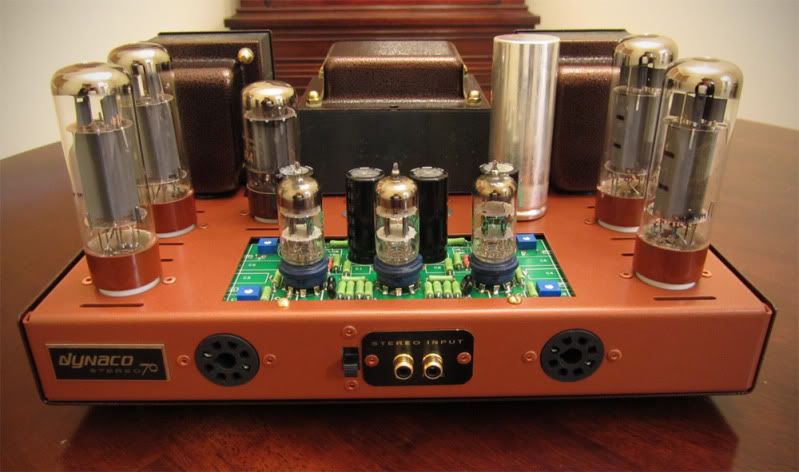 ST-70 Front - Click to Enlarge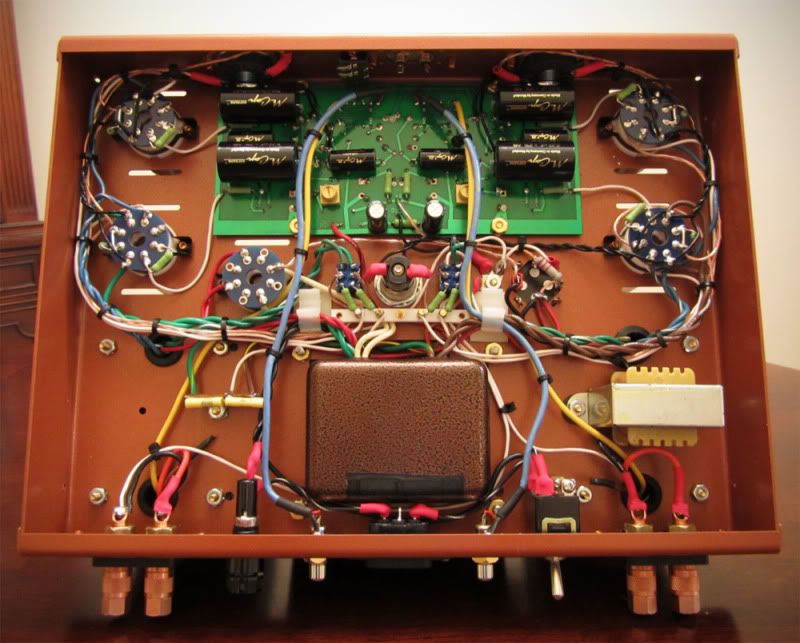 ST-70 Guts - Click to Enlarge
It was a fairly easy build and a recommendable kit. The sound is lush and engaging.
Looking for Mundorf Capacitors for your build (among other great DIY parts)? Check out AuDIYo.com - Quality High End Audio Components and Parts.
Please remember that building circuits and performing circuit modifications can be dangerous to you and/or your surroundings and should only be performed by a certified technician. The owner of this blog and all associated parties can not / will not be held responsible if you attempt a
build or modification posted above
and cause physical harm to yourself or your surroundings. Many electronics contain high voltages that can kill, and mods, if performed improperly, can be a fire hazard. Please keep this in mind.