I've made a couple of power cords using a right angle IEC so far, the first using a DHLabs 10/3 power cable that was a little thick for my liking, and didn't incorporate a shield. Unfortunately, it seems, a nice off-the-shelf, shielded power cable for DIY purposes is hard to come by for a reasonable price. So for my Bottlehead kit, I decided that I would make one from scratch that had the features I valued; namely teflon dielectric and a woven shield. I'll be detailing the steps I went through below in order to make this reasonably priced PC. This process did take hours though :P
The materials I used for this project are as follows:
10 gauge silver plated copper in teflon (cost varies)
Marinco 8215 ($8.75, PartsConnexion)
Woven Shield (Percy Audio)
Schurter IEC Female 15A 250V 90 degrees PN: 4784.0100 ($4.95, PartsConnexion)
Black 1/4" Techflex (CableOrganizer / Wirecare)
Chrome XC 1/4" Techflex (CableOrganizer / Wirecare)
Black 1/2" Heatshrink (CableOrganizer / Wirecare)
Loctite Adhesive ($3, Home Depot)
5 Rolls of Plumbers Teflon Tape ($5, Home Depot)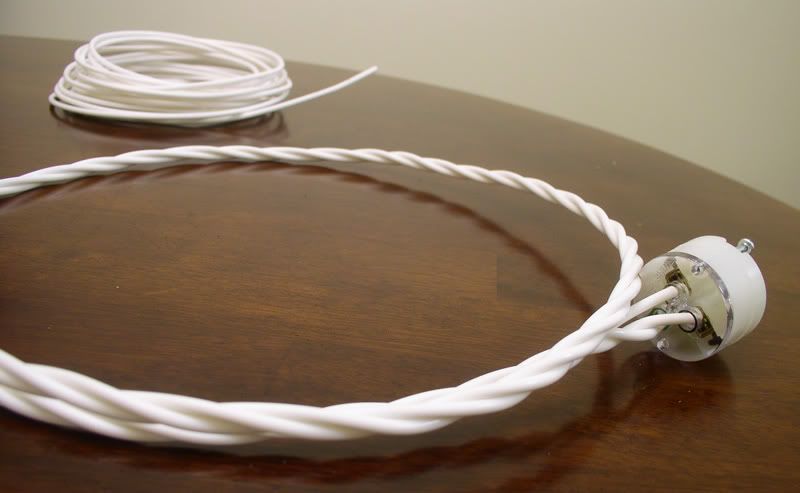 This cord was going to be four feet, so I trimmed three 10 gauge SPC in Teflon conductors and twisted them together by hand. I've seen people use a power drill to handle this process, but I wanted to be precise about it. A flat braid would have been more difficult to sleeve and insert into the Schurter IEC. The wire was then stripped to the appropriate length using the guide on the back of the Marinco plug, inserted and tightened with the screws around the circumference of the plug.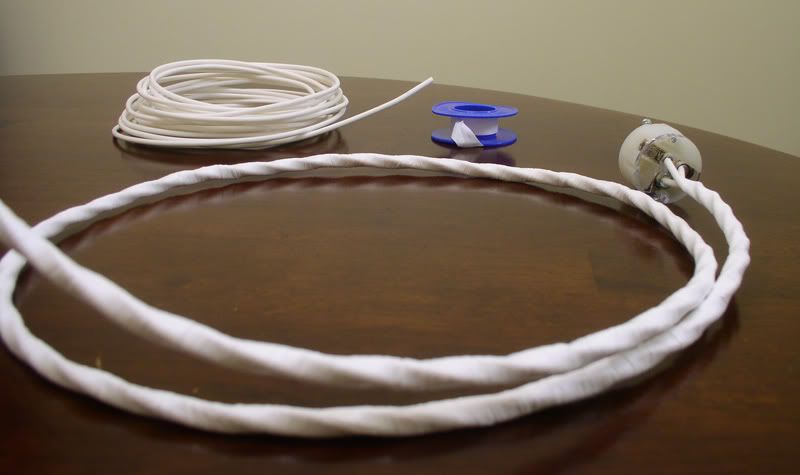 Now came the fun part, wrapping the cable with Teflon tape. This helps further isolate the shield from the conductors and helps maintain the cable geometry. Some would also say it adds damping. This is a long and boring process, so I like to have some music going in the background.
A woven tinned-copper shield was then sleeved over the cable. I used a smallish 22 gauge silver conductor I had handy to tie the shield to the source safety ground and soldered it in place. Electrical tape was then used to keep it stationary.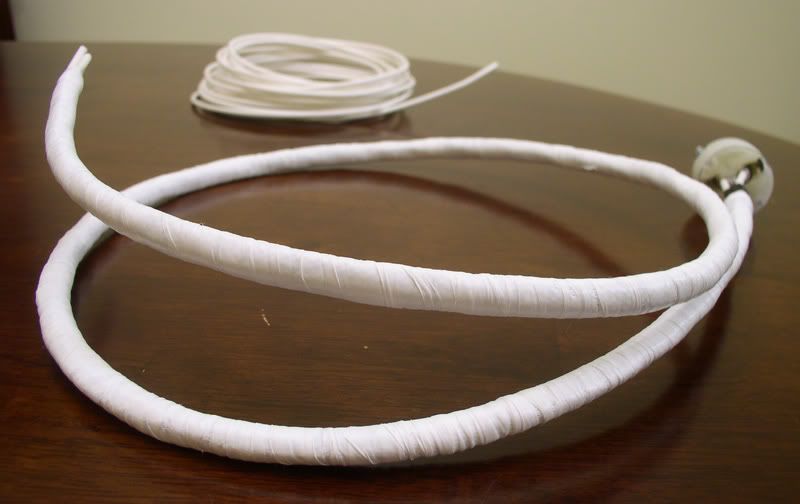 The cable was then wrapped with additional Teflon tape to flatten out the woven shield and isolate it.
I chose a combination of Techflex brand Chrome XC and black PET sleeving, mostly for decorative purposes. Techflex states on their page that the Chrome XC sleeving offers shielding, so a little bit extra certainly can't hurt.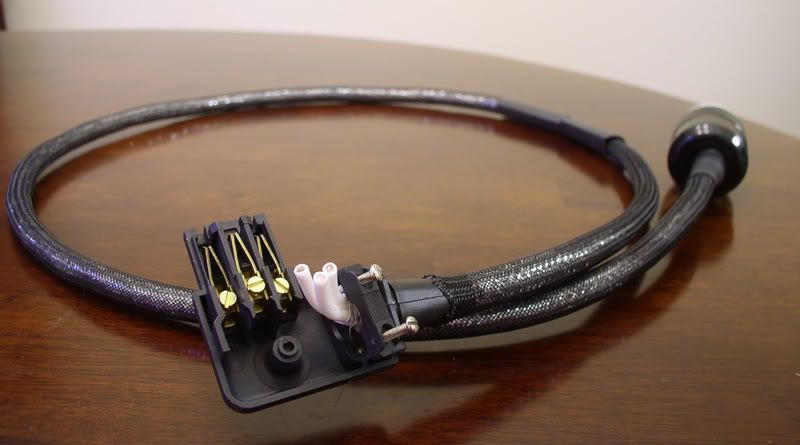 The Schurter IEC is then fitted. I've found this plug to be somewhat cumbersome to use, mostly because of the screw-hole that gets in the way of larger, stiffer conductors. Unfortunately, there are no other options that I know of for a decent right angle IEC. Also most boutique pre-made PC cable has a thick jacket that won't fit, so I've had to trim it at the boot and build up the area around the boot for a smooth appearance. The wires need to correspond to the way they are oriented on the plug, so a signal tester on my DMM was used as the wires aren't color coded.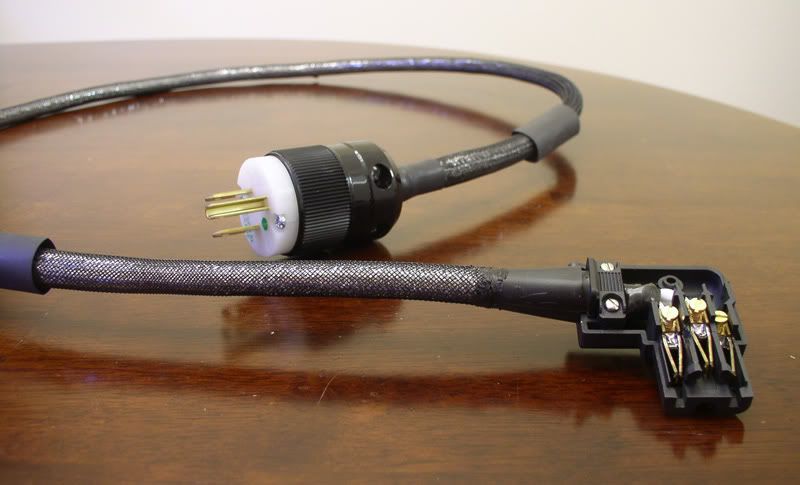 I then stripped the wire, routed it into the sockets and screwed it in. Some solder was added using a hot setting (900 degrees) to ensure the wire would stay put if the screws loosened over time. The extra techflex was trimmed with a hot knife and melted to the boot. Some loctite was then placed in the area and two layers of 1/2" heatshrink were used as strain relief.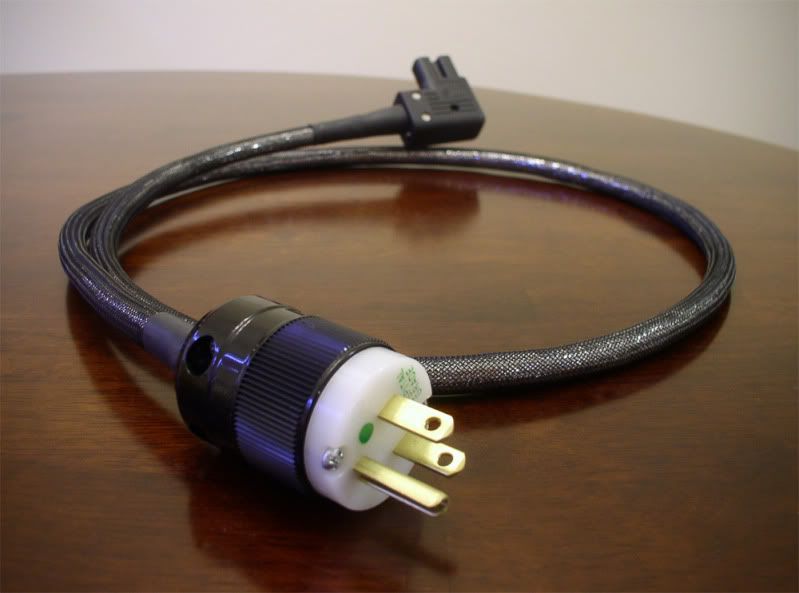 The final product. Came out rather nicely imho.
The above steps detailing the creation of a power cord are for entertainment purposes only, and not to be performed under any circumstances. Please remember that attempting to use homemade power cords can be dangerous to you and/or your surroundings. The owner of this blog and all associated parties can not / will not be held responsible if you attempt the process posted below and cause physical harm to yourself or your surroundings. Many electronics contain high voltages that can kill, and DIY power cables can be a fire hazard. Please keep this in mind.